This is a last minute Mother's Day card I made for my daughter-in-law.  I used Background Basics: Twinkle, Label Basics, Delightful Dahlia and Flower Fusion #3 stamp sets from Papertrey.
I got the sweetest gift from my kids this year.  They all got together and made me a basket of my favorite things.  It really touched me that they took the time to do that for me, not to mention how special it was that they knew so many of my favorite things.  They did a really great job!  I received my very first Grandma card this year.  That was a new experience.  My granddaughter saw me at church on Sunday and yelled down the hallway, "Happy Mother's Day, Grandma!"….so sweet, talk about melting my heart.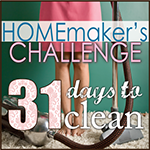 I am finding I am not able to keep up with the really big jobs, but I am very happy with the progress I am making.  I definitely wouldn't be this far along in my cleaning without this challenge.  So far, I have accomplished…
My refrigerator and freezer are cleaned out and organized.
All of the tops of my cabinets (which includes cleaning all of the glass "untouchables" I keep up there), the top of my refrigerator and my ceiling fan are clean.
My oven and microwave are gleaming.
My kitchen windows are spotless (for now) and the vertical blinds and window treatments are all clean.
All of my cabinets are clean and shiny.
I have one cabinet all cleaned out and organized and have made really good progress on cleaning and organizing my pantry.
My favorite part of this challenge are the Mary challenges, and I have really enjoyed  just reading the book on its own.  I have found it to be so inspiring and thought provoking.  I think I will find myself reading it over and over again.  You can find more info on this book here and on the challenge here.
Thanks for stopping by my blog today. 
~Karen